HKTA Hong Kong Tutor Association - home tutoring agency | private tutor services
Number of Tutors: 121520
Today: 0 job (s)
Last 30 days: 492 job (s)

About HKTA Hong Kong Tutors' Association
Hong Kong Tutors' Association WWW.HKTA.EDU.HK is a home tutorial tutor organization , was awarded theISO9001 international quality service management certificate, the Hong Kong star brand awards, economic week, the most powerful brand award, ROADSHOW favorite remedial intermediary brand award (Formerly known as the Student Association Education Center),是全港唯一一所獲得.edu.hk is the only one in Hong Kong to receive a private tutoring agency website, which has a large collection of high-quality tutor network, so far, over 90,000 qualified teaching staff have been accredited by this Council.Through our full-time education consultancy team, we provide one-to-one private teaching matching service for all primary and secondary school students and adults. Free of charge to provide teaching advice, our educational consultative team also regularly receive training, regular communication with the education sector, in 2012, for two consecutive years by the Hong Kong Trade Development Council awarded the Hong Kong star brand, but also by the Hong Kong Productivity Promote the Office of excellence in customer service, filling professional. Since the establishment of Hong Kong, we have served more than 150,000 families and are one of the most popular tutorial centers for parents
in Hong Kong.

The purpose of this Council
Hong Kong Mentorship in line with the purpose of providing quality home education, strictly for the district, primary school children choose excellent tutor. Most of the instructors in this Council are university students, the top students of the HKCEE, the Music Masters are graduates of the Royal Conservatory of Music with a grade of 8 or above, serving primary and secondary school teachers and full-time tutorial tutors. Teachers have full guarantee. All tutor members are subject to rigorous examination to ensure that the achievements and moral, intellectual, physical, group, the United States and other areas have significant progress.
Our services
Established in 1986, the Hong Kong Tutors Association is established to provide professional home-based introduction, music and swimming intermediary services to parents and students in various districts. Thank you for your support. At present, we have the largest pool of audited tutors in Hong Kong. With the advancement of science and technology,
this Council set up a website in September 2000 to facilitate parents / students and mentors to register their services through the Internet.

TUTORIAL STUDENT SCOPE
Homework: Primary to Pre-university students and general tuition
Language conversation: all kinds of English, Japanese, Mandarin and other foreign languages, 3 years old to adult
Music professor: Beginner to eight students
Swimming Professor: Elementary to Postgraduate
Tutor degree of education
On-site Tutoring: Bachelor degree or above
Professor of Music: 8 or more qualified Conservator of the Royal Conservatory of Music
Professor Swimming: Hong Kong Swimming Association with more than life-saving bronze
Plus: The instructors mentioned above have more than two years of teaching experience

Service area
Home Tutoring: Hong Kong Kowloon and the New Territories students or mentor residence
Professor Music: Hong Kong Kowloon and the New Territories students or mentor residence
Swimming: All standard indoor and outdoor swimming pools in Hong Kong Kowloon and the New Territories
Area Search
Last 30 days of the most popular tutor home tutorial
最近三十天最多家長查詢上門補習,語文,音樂科目
Most popular tutor search in the last 30 days
最近三十天最受家長歡迎上門補習,語文,音樂科目
Awards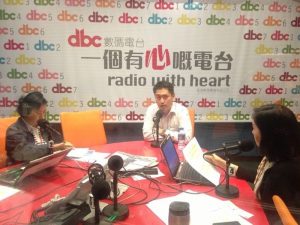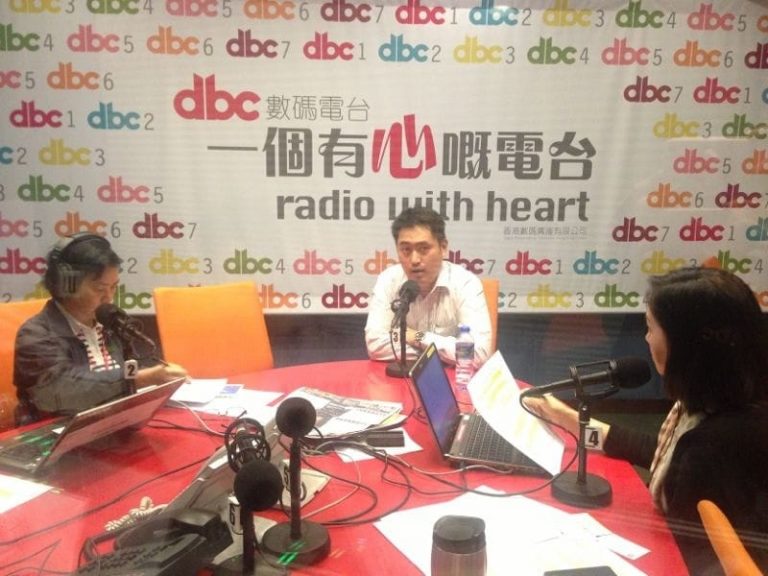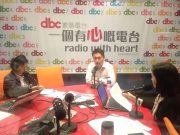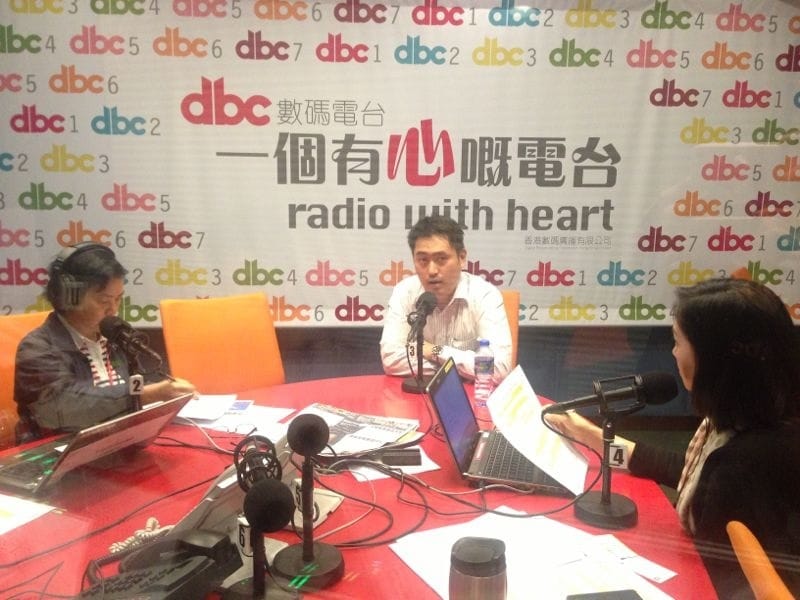 性罪行查冊,私人補習機構如何規管,訪問創辦人何世杰先生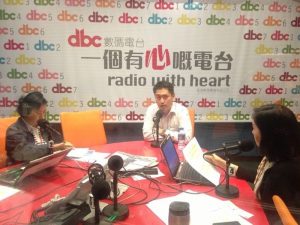 性罪行查冊,私人補習機構如何規管,訪問創辦人何世杰先生
RoadShow一路最愛補習仲介機構品牌大獎
作為全港最具規模的補習仲介機構,HKTA香港導師會榮獲「RoadShow一路最愛補習仲介機構品牌大獎」,代表着全港市民對本會服務及配對教育工作的肯定和鼓勵,同時標誌着HKTA另一個重要里程,有您們的支持,我們會繼續努力,做好私人教學配對工作。
每年舉辦的「RoadShow一路最愛品牌大獎」旨在表揚有高質素品牌形象及傑出品牌宣傳策略之機構,當中設有多個不同組別的獎項,包括「一路最愛服務品牌大獎」,由公眾網上投票及大會專業評審團評核產生,評審團根據「整體品牌管理策劃」、「企業在社會責任方面的貢獻」以及「與客戶之間的互動程 度」三大準則,對候選品牌作出審核及評分。
香港導師會於2015年獲「經濟一週」在香港10大補習仲介機構挑選為最具實力-補習仲介機構機構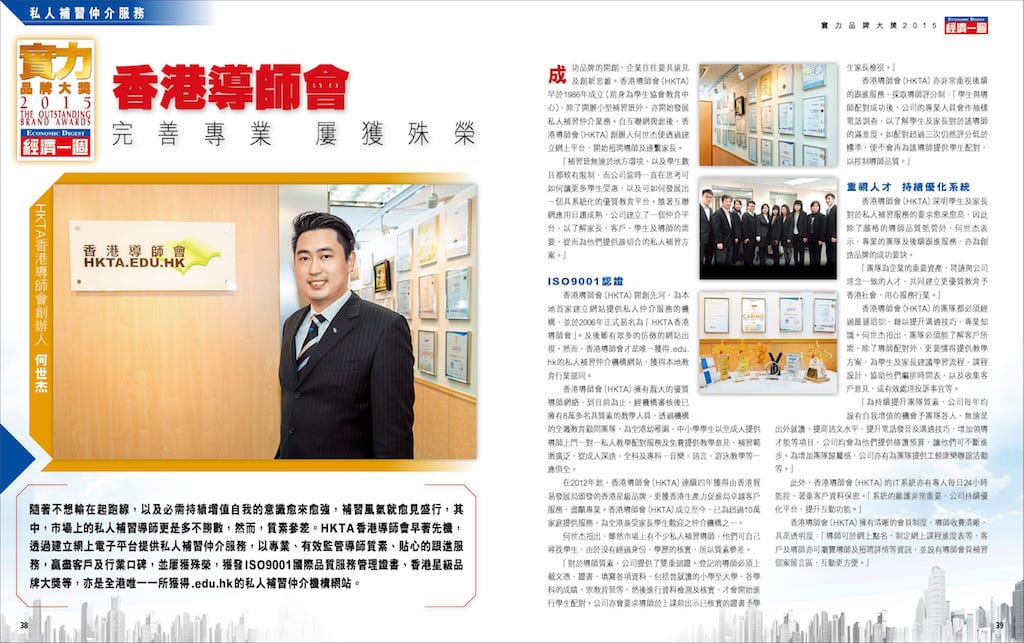 成功品牌開創,HKTA香港導師會私人補習仲介機構
本會榮獲香港客戶服中心頒發「人與人專業電話守則」認證
本會自2012年起獲頒發「人與人專業電話守則」認證,為香港通訊行業極具認何之證書,包括各大銀行、電信業者自發參與認證,更由HKQAA 審核。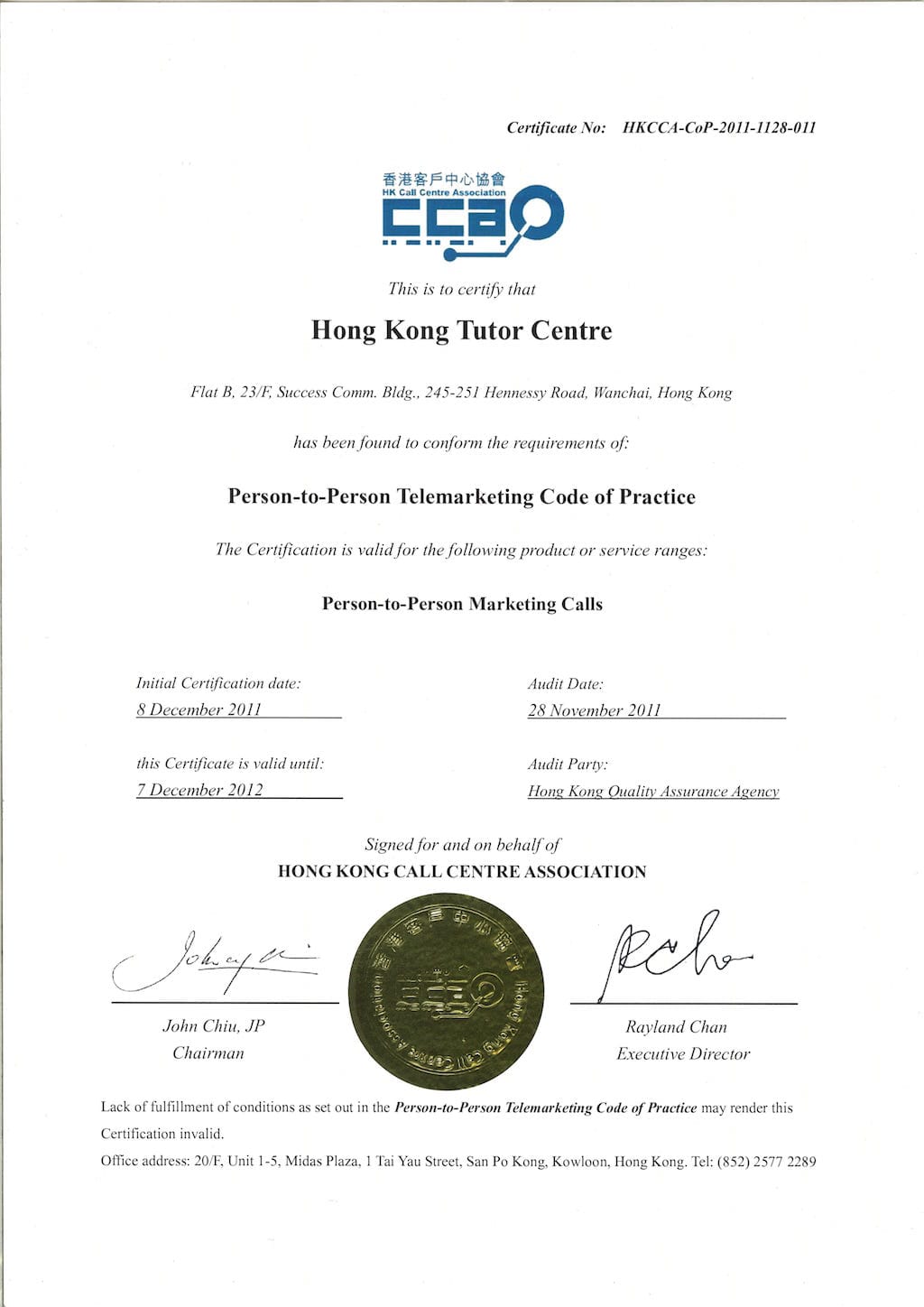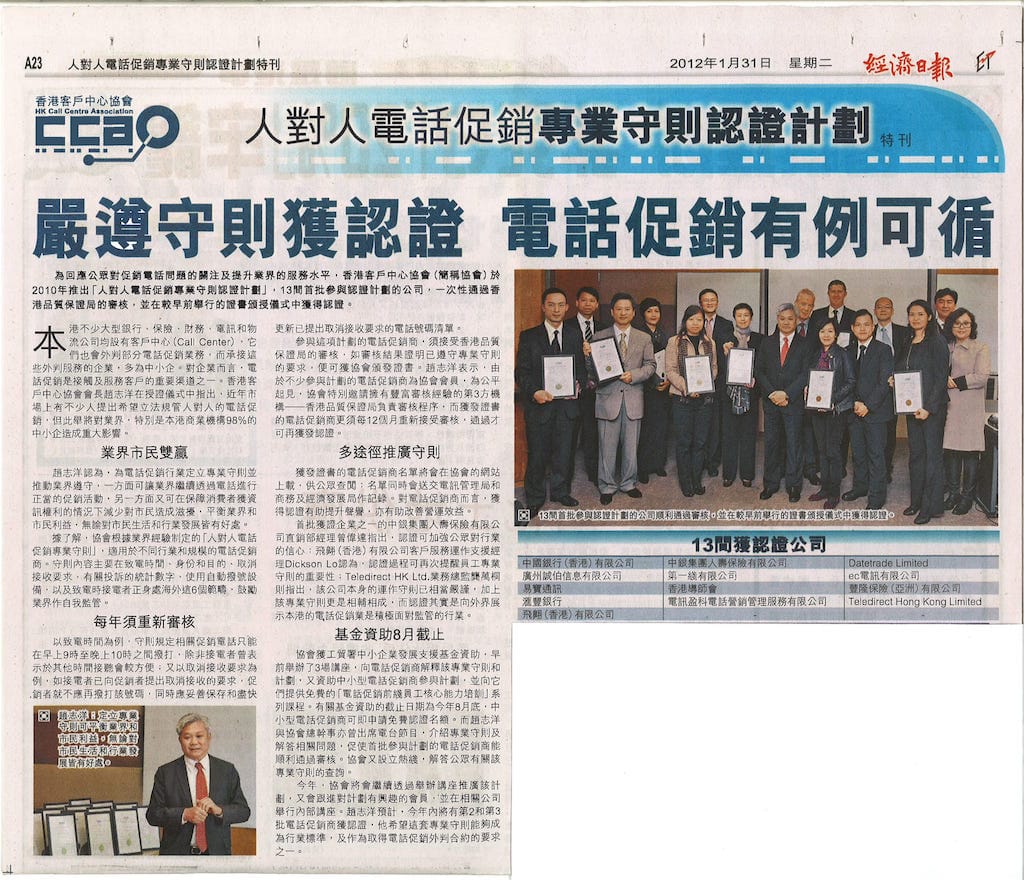 HKTA香港導師會欣然宣布再度榮獲香港中小型企業聯合會頒發的「香港星級品牌大獎─中小企獎」,進一步肯定集團於品牌發展上的努力及貢獻。
HKTA創辦人何世杰先生表示﹕「本會一直致力提升服務質素,嚴謹挑選導師,很高興能連續五年獲得『香港星級品牌大獎─中小企獎』,深受社會各界的認同。本會服務香港廿年,一直免費為各家長/學生尋找心儀的補習導師,服務人數超過15萬,導師截止2016年5月亦超過9萬,我們本著『專業配對,您的私人補習專家』的理念,為家長/學生/導師提供優質一對一教育配對專業平台,自設開發系統,保障用戶利益。冀望令每位家長感受到我們『星級』的專業服務。」
「香港星級品牌大獎2015」由香港中小型企業聯合會主辦、香港貿易發展局及香港生產力促進局協辦,以嚴謹的評審程序篩選出在業務發展、產品及服務質素,以及履行社會責任等方面均有卓越表現的「星級品牌」。頒獎典禮及晚宴將於2015 年11 月10 日在香港洲際酒店舉行,並由商務及經濟發展局局長蘇錦樑先生頒發,並有AM730及文匯報等傳媒報導

HKTA香港導師會欣然宣布再度榮獲香港中小型企業聯合會頒發的「香港星級品牌大獎─中小企獎」,進一步肯定集團於品牌發展上的努力及貢獻。
HKTA創辦人何世杰先生表示﹕「本會一直致力提升服務質素,嚴謹挑選導師,很高興能連續五年獲得『香港星級品牌大獎─中小企獎』,深受社會各界的認同。本會服務香港廿年,一直免費為各家長/學生尋找心儀的補習導師,服務人數超過15萬,導師截止2016年5月亦超過9萬,我們本著『專業配對,您的私人補習專家』的理念,為家長/學生/導師提供優質一對一教育配對專業平台,自設開發系統,保障用戶利益。冀望令每位家長感受到我們『星級』的專業服務。」
「香港星級品牌大獎2015」由香港中小型企業聯合會主辦、香港貿易發展局及香港生產力促進局協辦,以嚴謹的評審程序篩選出在業務發展、產品及服務質素,以及履行社會責任等方面均有卓越表現的「星級品牌」。頒獎典禮及晚宴將於2015 年11 月10 日在香港洲際酒店舉行,並由商務及經濟發展局局長蘇錦樑先生頒發,並有AM730及文匯報等傳媒報導

RoadShow一路最愛補習仲介機構品牌大獎
作為全港最具規模的補習仲介機構,HKTA香港導師會榮獲「RoadShow一路最愛補習仲介機構品牌大獎」,代表着全港市民對本會服務及配對教育工作的肯定和鼓勵,同時標誌着HKTA另一個重要里程,有您們的支持,我們會繼續努力,做好私人教學配對工作。
每年舉辦的「RoadShow一路最愛品牌大獎」旨在表揚有高質素品牌形象及傑出品牌宣傳策略之機構,當中設有多個不同組別的獎項,包括「一路最愛服務品牌大獎」,由公眾網上投票及大會專業評審團評核產生,評審團根據「整體品牌管理策劃」、「企業在社會責任方面的貢獻」以及「與客戶之間的互動程 度」三大準則,對候選品牌作出審核及評分。
本會榮獲香港客戶服中心頒發「人與人專業電話守則」認證
本會自2012年起獲頒發「人與人專業電話守則」認證,為香港通訊行業極具認何之證書,包括各大銀行、電信業者自發參與認證,更由HKQAA 審核。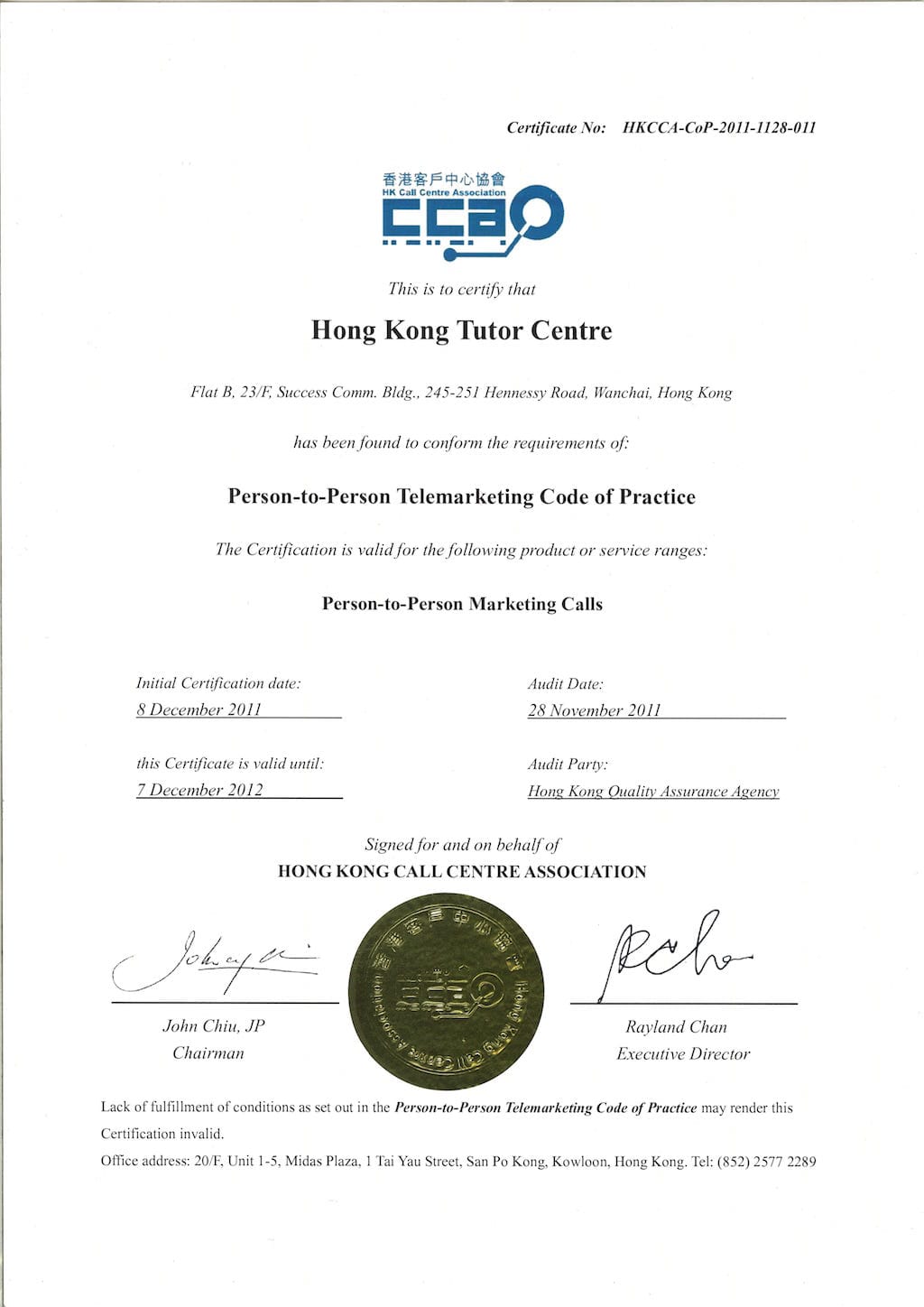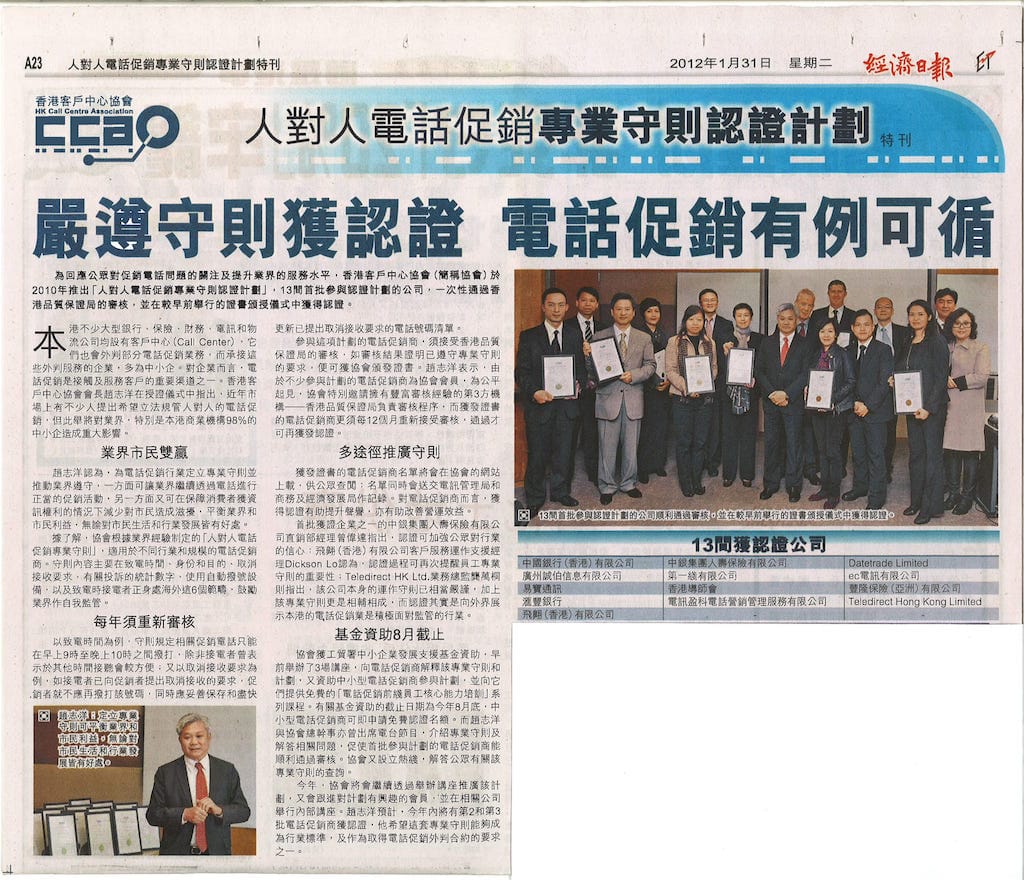 香港導師會於2015年獲「經濟一週」在香港10大補習仲介機構挑選為最具實力-補習仲介機構機構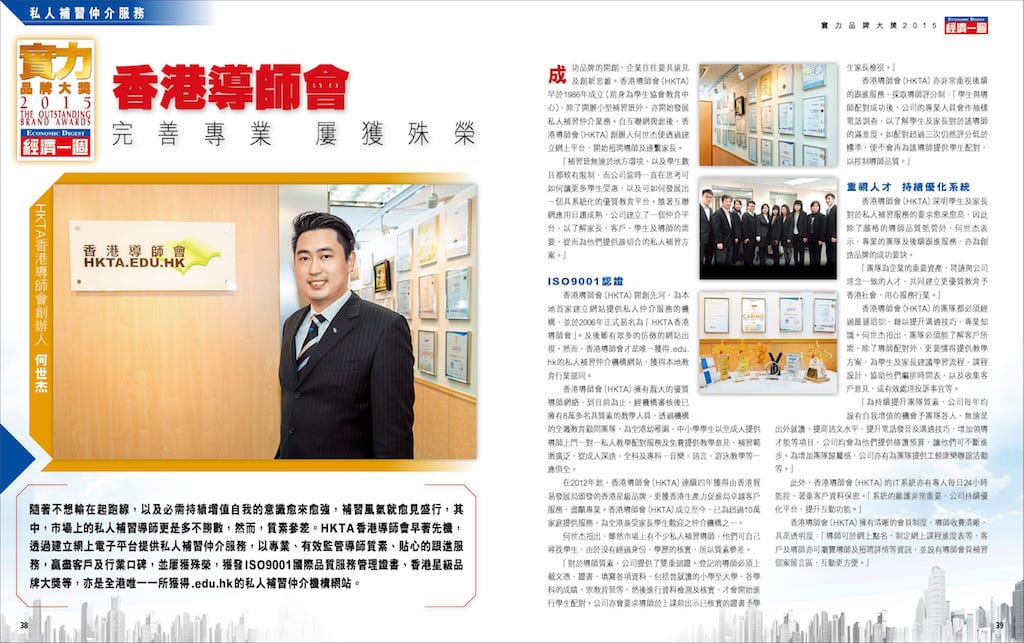 成功品牌開創,HKTA香港導師會私人補習仲介機構